:::
<!#--所有資料+cate tab --> <!#--detail-->
The 2020 TAITRONICS and AIoT Taiwan closed successfully, driving innovations in the post- pandemic era
Online Date: 2020/10/23
Modify Date: 2020/10/26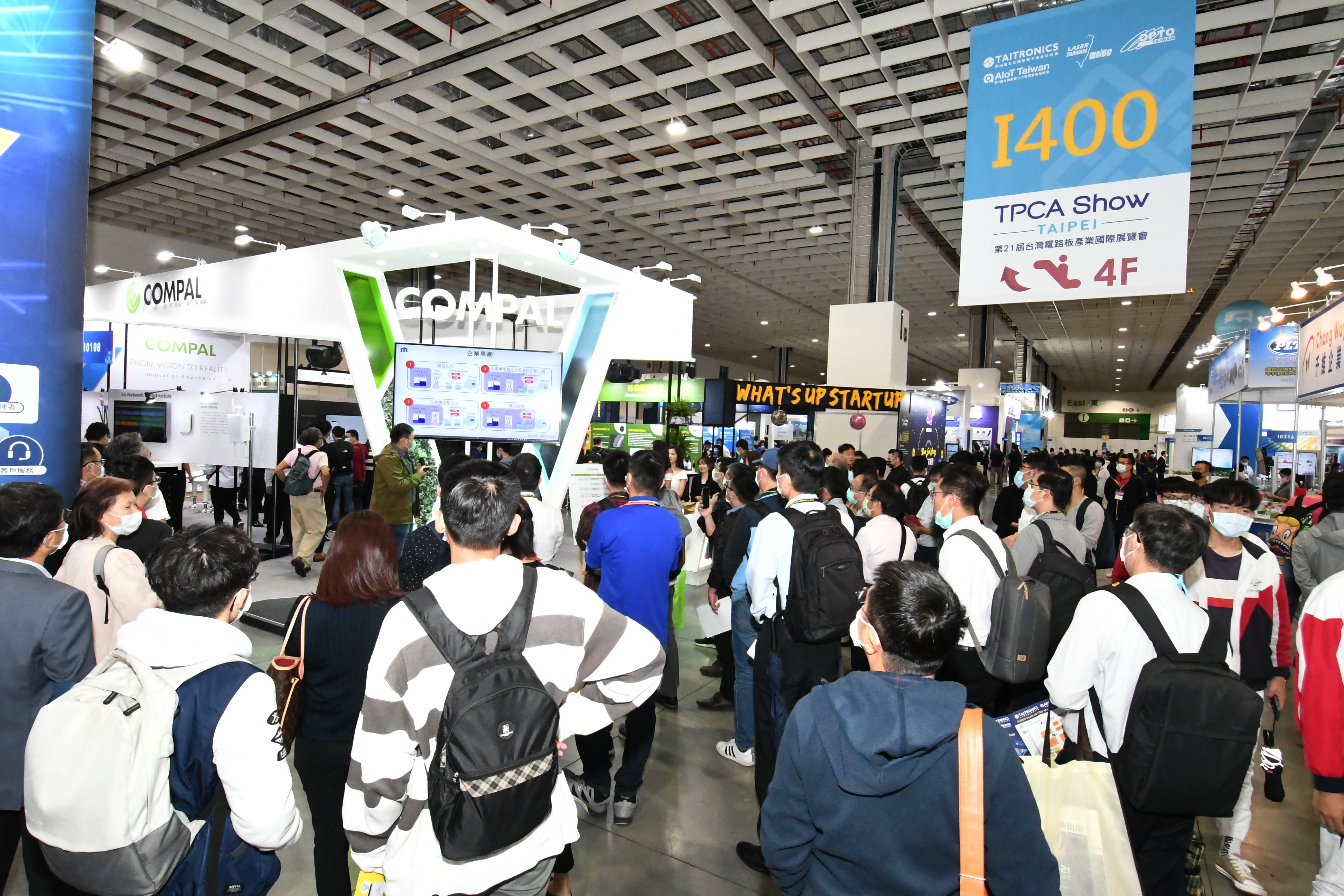 The 2020 TAITRONICS and AIoT Taiwan, organized by Taiwan External Trade Development Council (TAITRA) and Taiwan Electrical and Electronic Manufacturers'Association (TEEMA), officially closed today. Due to border control, international visitors were mainly from well-known companies stationed in Taiwan, such as Microsoft, Supermicro, ARM, Amazon, Google, Ericsson, and Panasonic. The online and offline procurement meetings gathered 50 buyers from more than 20 countries, including the United States, Canada, Australia, India, Japan, Japan, Turkey, Brazil, Poland, and China, for more than 200 procurement meetings. The number of domestic industry visitors grew, with a total of 13,074 visitors in three days, a substantial increase of 77% over last year.
5G is being commercialized worldwide, accelerating the innovation of technology applications, and the electronics manufacturing industry is poised to promote the upgrading and iteration of the industry through the introduction of cutting-edge technologies such as artificial intelligence and the Internet of Things. At this year's TAITRONICS and AIoT Taiwan, the industry players cooperate with innovative R & D teams across different domains to exhibit cutting-edge devices and solutions. The application categories include smart manufacturing, smart applications, smart cities, smart life, cloud Internet of Things, startups, IoT chip-based integrated services, drones, renewable energy and energy storage, retail, and healthcare, which present an intelligent future of the Internet of Everything.
In the new 5G era, innovative technology promotes the evolution of the industry
Compal, participating in the AIoT Taiwan Exhibition for the first time this year, formed an alliance with Cisco Systems to provide 5G enterprise solutions supporting smart factories, smart healthcare, smart agriculture, smart homes, and audio-visual entertainment. During the show, Compal also showcased 5G smart products and enterprise network application scenarios through online platforms. Rod Schwarz, a major wireless communication measurement instrument manufacturer, displayed the RTM3000 series. RTM3000 combines an oscilloscope, logic analyzer, protocol analyzer, digital voltmeter, waveform and digital signal generator. Its long-term data collection can quickly and effectively debug various electronic systems. Startup ADE Technology Inc. showcased the non-contact physiological care system, Hexagram, which combines thermal induction and radar technology to free care recipients from the constraints of wearing devices and achieve 24-hour real-time monitoring. This solution is now in cooperation with Kaohsiung Medical University Chung-Ho Memorial Hospital and Shin Kong International HealthCare Center Hospital. It is also endorsed by Japanese mmobility Co., Ltd. and enters the Japanese nursing market.
In line with the development trend of IoT and Industry 4.0, major companies have continued to innovate and change. Chroma ATE Inc. launched a new generation of AC and DC power supplies, suitable for testing applications such as two-way car chargers in electric vehicles, solar inverters, battery energy storage systems, fuel cells, and microgrids. AcBel Polytech Inc. created a new generation product called Holy Plus that integrates adapters, chargers, hub, power distributors, and dongle functions. It provides fast charging and data transmission functions to help customers connect different configuration data to products through various connection ports. In automotive electronics, Good Will Instrument (GW Instek) launched the programmable AC/DC power supply ASR-2000 series to meet the diversification of automotive electronic devices and customers' needs for simulation testing of automotive electrical components.
Nine themed pavilions outline a new blueprint for smart applications
The highlight of this year's AIoT Taiwan is the 9 major theme pavilions. The Smart City Pavilion enabled by AIoT takes 5G, health and epidemic prevention, and security governance as the main display theme, showcasing how government departments optimize urban operations by integrating IoT, big data, and artificial intelligence to implement local intelligence services. The Smart Manufacturing Pavilion, co-organized by TEEMA and Institute for Information Industry, focuses on frequency components, LED, and wires and cables, showcases smart manufacturing solutions that introduce smart applications, and promote project results. Another highlight is the Metropolis AIoT Startups Pavilion jointly exhibited by the Industrial Development Bureau of the Ministry of Economic Affairs, AWS, and NVIDIA. The content covers AIoT applications in smart healthcare, smart cities, and smart manufacturing. It is expected that the application of smart services will expand and benefit more users.
In the post- pandemic era, the global industrial chain is re-constructed. This year's TAITRONICS and AIoT Taiwan focus on cross-industry innovative applications. The 2021 shows will open from October 20-22 and continue to lead the latest industry trends in the electronics industry. To provide more comprehensive services, this year's online exhibition (#virtualTaitronics) offers online new product announcements, live tours, and live streaming forums will continue to be open until November 7, 2020. Interested professionals should take advantage of this last opportunity to enjoy the all-new virtual online exhibition experience.