:::
<!#--所有資料+cate tab --> <!#--detail-->
2020 Taiwan International Electronic Manufacturing Show Pre-builds a New Vision for Smart Manufacturing TAITRONICS and AIoT Taiwan Exhibit Online and Offline, Aiming for Business Opportunities in the Post-Pandemic Era
Online Date: 2020/10/21
Modify Date: 2020/10/26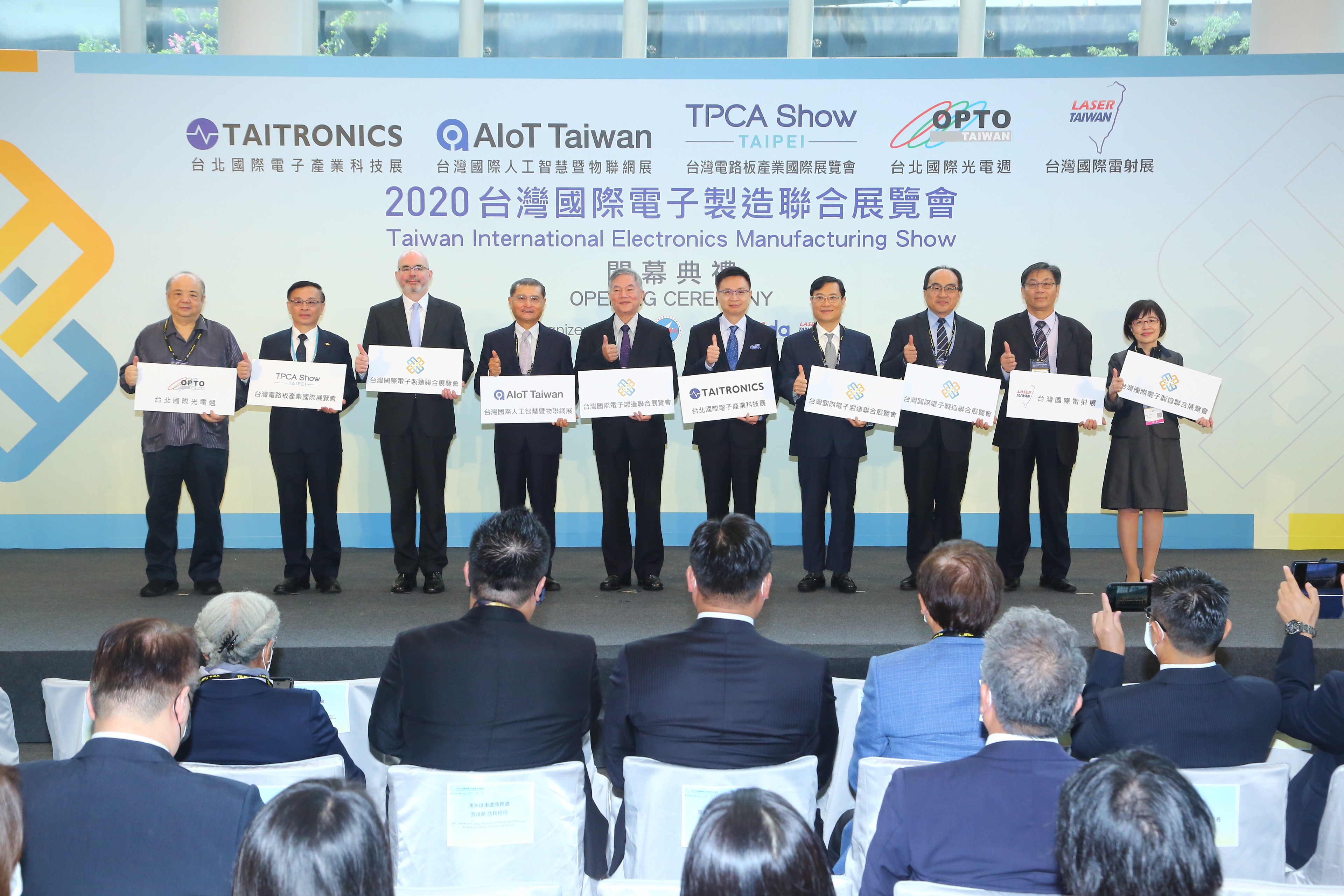 This year, the only large-scale electronic show, Taiwan International Electronic Manufacturing Show, opens at Taipei Nangang Exhibition Center, Hall 1 today. The pandemic has driven the demand for remote applications and terminal equipment, and the global industry has ushered in a revolutionary new situation. To help show exhibitors connect with the world, TAITRONICS and AIoT Taiwan join TPCA Show, OPTO TAIWAN, and Laser & Photonics Taiwan for a complete electronic show that catches the attention of the global electronic professionals. These shows gather 800 domestic and international exhibitors, using 1,850 booths. Through the electronics industry's cross-domain integration, they present the overall picture of Taiwan's electronics manufacturing industry and look to capture new business opportunities in the 5G era.
Government officials, Mr. Jong-Chin Shen, Vice Premier, Executive Yuan, Mr. Chern-Chyi Chen, Deputy Minister, Ministry of Economic Affairs (MOEA), and Mr. Raymond Greene, Deputy Director, American Institute in Taiwan, were invited to the opening. They join the show organizers Mr. James C. F. Huang, Chairman, Taiwan External Trade Development Council (TAITRA), Mr. Richard Tsu-Chin Lee, Chairman, Taiwan Electrical & Electronic Manufacturers' Association (TEEMA), Mr. Maurice Lee, Chairman, Taiwan Printed Circuit Association (TPCA), Mr. Kenneth Tai, Chairman, Photonics Industry & Technology Development Association (PIDA), and Mr. Chung Yi Pan, Honorary Chairman, Taiwan Laser Technology Application Association to kick off the first Taiwan Electronic Manufacturing Show together.
Mr. Jong-Chin Shen, Vice Premier, Executive Yuan, pointed out that in the past, Taiwan used to pay high technology authorization fees for cooperation with foreign manufacturers, but this phenomenon has reversed in recent years. Top international technology companies such as Google, Facebook, and Amazon have set up R&D centers in Taiwan. Nowadays, Taiwan has become the focus of global high-end smart manufacturing and R&D.
Mr. Chern-Chyi Chen, Deputy Minister, Ministry of Economic Affairs (MOEA), said that Taiwan has shown three surprises this year. The first is that under the China-US trade conflict, the government responded with the "three plans for investment in Taiwan" and encouraged Taiwanese businesses and factories to return to Taiwan. Since then, Taiwan has attracted USD 21.85 billion in investment, triggering Taiwan's economy to grow against the downtrend. The second is Taiwan's success in pandemic prevention. With the people and the government's efforts, Taiwan is one of the few countries in the world that hold large physical exhibitions. The third surprise is, under the global industry chain crisis, Taiwan created an export output value surpassed 30 billion U.S. dollars this September, an annual growth rate of over 9%.
James Huang, TAITRA Chairman, indicated that the global electronics industry had been affected by the pandemic, causing a crisis of industrial chain disconnection. Taiwan International Electronic Manufacturing Show is the only joint electronic exhibition in the world that physically opens to the public, showing Taiwan's epidemic prevention and industry's strength and capabilities. TAITRA will work with industry leaders to reorganize and build a resilient supply chain closer to buyers and global markets.
Chairman Lee of TEEMA said that according to the estimates of the Industrial Technology Research Institute, the output value of the information electronics industry this year will reach USD24.8 billion, which is the main force of Taiwan's economic development. The Taiwan International Electronics Manufacturing Show demonstrates the strength of Taiwan's high-end smart manufacturing. TEEMA will continue to work with TAITRA and various associations to help manufacturers recreate industrial value.
Looking for 5G Business Opportunities Through Online and Offline Exhibitions  
To keep communication with the international market uninterruptedly, TAITRONICS and AIoT Taiwan are using digital technology. Through online and offline synchronization approaches, TAITRA and TEEMA organize online new product launches, live tours, and forums, showing Taiwan's electronics manufacturing industry to the world.
The highlight of the joint exhibition, One-on-One Procurement Meetings, gathers 50 buyers from more than 20 countries, including the United States, Canada, Australia, India, Japan, Japan, Turkey, Brazil, Poland, and China, to conduct more than 200 procurement meetings using virtual meeting rooms. TAITRA will continue to leading Taiwanese manufacturers to seize the 5G and AIoT application business opportunities.
Nine Theme Pavilions Weave a New Blueprint for Smart Manufacturing
On the first day of the exhibition, the industry leaders in electronics manufacturing, semiconductors, and trade were brought together for a special forum, The Outlook of Electronics Industry Trends, to analyze the crisis and opportunities of a broken chain under the pandemic and trade conflicts and to help master the development of the electronics industry. During the exhibition, diversified forums on topics such as IoT chipization (by IoT Integrated Service Center, IisC), AIoT applications, information security, smart home AI applications, sustainable environmental development, and digital transformation capabilities will also be broadcast online in both English and Mandarin, allowing domestic and international professionals to keep up with the latest industry trends.
This year's TAITRONICS and AIoT Taiwan brought together Taiwanese and international companies in categories such as components & parts, meters & instrumentation, cells, batteries & power supplies, AI & IoT, smart retail, e-commerce, and LED lighting. Major exhibitors include ACBEL POLYTECH, COMPAL ELECTRONICS, CHUNGHWA TELECOM, CHROMA ATE, CHYNG HONG ELECTRONIC, FAR EASTONE TELECOMMUNICATIONS, FORTUNE ELECTRIC, GOOD WILL INSTRUMENT, IAR SYSTEMS, MEAN WELL ENTERPRISES, MASTERHOLD INT'L, PROVA INSTRUMENTS, ROHDE & SCHWARZ TAIWAN, PROTECH SYSTEMS, SYSCOM COMPUTER ENGINEERING, TES ELECTRICAL ELECTRONIC, TAIWAN FIXED NETWORK and more. In addition, 9 theme pavilions, covering smart manufacturing, smart application, smart cities, smart life, cloud Internet of Things, startups, IoT Integration Service Center (IisC), drones, renewable energy and energy storage are showcasing with the latest trends and applications.