:::
<!#--所有資料+cate tab --> <!#--detail-->
2020 TAITRONICS and AIoT Taiwan – Hybrid Exhibitions to Debut in October
Online Date: 2020/09/14
Modify Date: 2020/10/23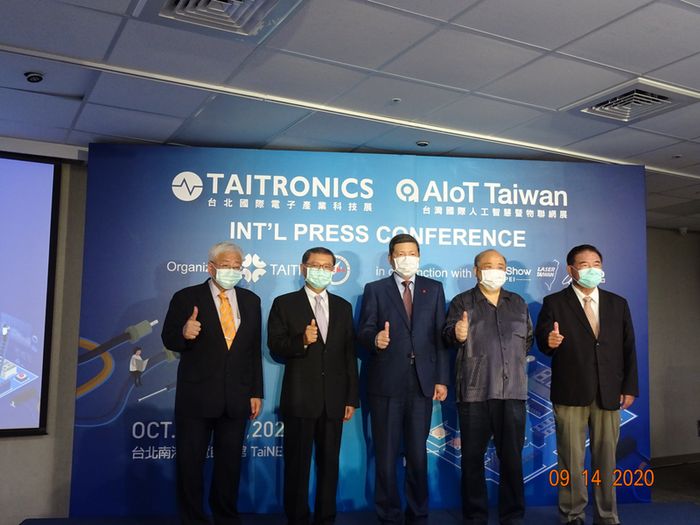 Integrating online and offline virtual reality and reality to seize business opportunities in the post-epidemic era
September 14, 2020, Taipei – The COVID-19 pandemic has forced many professional exhibitions worldwide to cancel or postpone. To help electronics companies during the pandemic, the organizers of TAITRONICS 2020 and AIoT Taiwan, TAITRA (Taiwan External Trade and Development Council) and TEEMA (Taiwan Electrical and Electronic Manufacturers' Association), will adopt the innovative mode of Online-Merge-Offline, OMO, integration of virtual and real exhibition for the first time.
This hybrid event will open in Taipei Nangang Exhibition Center, Hall 1 (TaiNEX 1), from October 21 to 23, combining on-site exhibitions with digital technology. The online exhibition includes a series of online services such as showcases, meetings, forums, presentations, and live broadcasts. Through nearly 30 online events and more than 100 online procurement meetings, global buyers and media are in for a brand-new experience as TAITRA continues to assist exhibitors during the pandemic and expand their domestic and foreign markets.
Themed pavilions and major manufacturers gather online and offline
This year's TAITRONICS and AIoT Taiwan receive strong support from the industry while coping with the pandemic. A total of 8 theme pavilions will be established and exhibition areas include key electronic components & parts, meters & instruments, batteries and power supplies, artificial intelligence and internet of things, smart retail, e-commerce, and LED lighting.
For international visitors who cannot visit the exhibition, Compal, GW Instek, Protech Systems, Chroma ATE, Syscom Group, AcBel Polytech, Masterhold Int'l, Taiwan Rohde Schwarz, and other manufacturers, will launch a series of online product announcements. They can be viewed on the following links:
https://virtual.aiottaiwan.com
In addition, a professional live broadcast team set up in the exhibition hall will interview exhibitors from the perspective of buyers. It will offer online international buyers the latest exhibition and electronic information from the showground. These live actions will be on TAITRONICS Facebook: https://www.facebook.com/TAITRONICS.TAIPEI/
One of the exhibition highlights, the "Procurement Meetings", will use virtual meeting rooms to enable exhibitors to break through time and space constraints and conduct one-on-one meetings with international buyers to secure business opportunities.
Industry leaders gather to outline a new blueprint for Taiwan's post-pandemic era
Many forums and seminars will take place during the exhibition as industry leaders gather to share the latest trends. October 21 will kick off with the "The Outlook of Electronics Industry Trends Summit", focusing on the overlook of electronic industry trends, featuring Mr. James Huang, Chairman of TAITRA; Mr. Richard Tsu-Chin Lee, Chairman of TEEMA; Mr. Maurice Lee, Chairman of Taiwan Printed Circuit Association (TPCA); Dr. Huai-jia Luo, CEO of Photonics Industry & Technology Development Association (PIDA); Dr. Hong Jibin, Director of the Taiwan Laser Technology Application Association (TLTAA); and Mr. Hong Songjing, Director of the Taiwan Semiconductor Industry Association (TSIA), will share and analyze how Taiwan's electronics industry chain is able to break through the siege in response to the current situation and outline a new industrial blueprint for the post-pandemic era.
Other forums such as "IisC Forum," "Sustainable Environment Development Forum," "Digital Transformation Forum," "Information Security Seminar," "Smart Electronics International Forum," and "TechOrange Seminar" are also be highly anticipated. The "Sustainable Environment Development Forum" will discuss environmental protection and industrial development and focus on how to reduce environmental impacts and reduce energy resource consumption while increasing the green competitiveness of enterprises. "Digital Transformation Forum" will focus on reshaping the traditional economy and the transformation of work and life during the digital wave and how to drive the digital innovation and transformation of the industry systematically. The organizers will also conduct online bilingual live broadcasts of some of these forums, allowing domestic and international industry players to keep up with the latest trends.
The first "Taiwan International Electronics Manufacturing Show" presents the electronics manufacturing ecosystem
For the first time, TAITRONICS and AIoT Taiwan join TPCA Show, Laser & Photonics Taiwan, and OPTO Taiwan to connect the electronics industry and cross-domain integration to present a complete electronics manufacturing industry. This joint exhibition is to create the exhibitors' exposure and new business opportunities in the 5G era.
For more show info, please check out the following websites: